Mayor's office
Contact:
​Address: Rotovž, Glavni trg 7, 8000 Novo mesto
E-mail: kabinet@novomesto.si
Phone:
00 386 7 39 39 244 (Administration)
00 386 7 39 39 204 (Head of the Mayor's Office)
00 386 7 39 39 239 (International Relations and Protocol)
00 386 7 39 39 341 (Public Relations)
Mayor
Mr Gregor Macedoni, M.Ec.
Contact:
E-mail: gregor.macedoni@novomesto.si
Phone: 00 386 7 39 39 244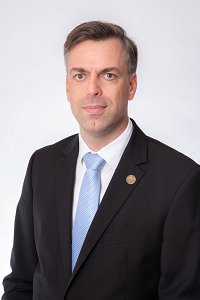 Gregor Macedoni began his first term of office as the Mayor of the Urban Municipality of Novo mesto at the end of 2014. At the end of 2018, he was re-elected and began his second term of office as the Mayor. Before taking the office, he worked in economy sector, however, he has always cooperated by means of civil-society organizations at the local, national and international levels. Before holding the Mayor's position at the town hall, he was the CEO of the Trimo MSS company, the function which often required him to go on business trips around the world.
As the Mayor he strives to contribute to the vision of Novo mesto he had determined before the elections, namely, that Novo mesto will become a municipality where it is pleasant to live, work, study and entertain oneself. To realise this vision, he seeks to change the functioning of broader municipal systems and, in particular, to implement specific investments.
He was born in 1973 in Novo mesto where he attended both primary and secondary grammar school. Later he followed his desire to upgrade his knowledge and chose to study at the Faculty of Electrical Engineering and Computer Science in Ljubljana. During his study years he participated actively in the student organization and he graduated with honours in 1997. Later on, he completed his postgraduate study of economy in Ljubljana while he was already working. His home is in Novo mesto together with his wife and their four children.
Deputy mayors
Mr Boštjan Grobler
Contact: bostjan.grobler@novomesto.si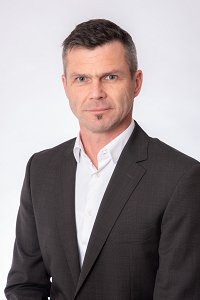 Boštjan Grobler, University graduate in economy, was born on February 17, 1974 and spent his youth in Arja vas in the Savinja Valley.

After completing the natural sciences and mathematics secondary school in Celje, he enrolled at the Faculty of Economics in Ljubljana. After completing his studies, he was employed at the BTC, d. d. company as a professional logistics assistant, and he later pursued his career as a logistics manager at Trimo, d. d. company.

In 2004, he became the Director of the Student Association of Novo mesto Work Service and carried out a successful merger with two other student work services what became the Agencija M servis d. o. o. employment agency, owned by three student clubs. Concurently, he managed the project of the purchase and restoration of the former Fish restaurant on the Main Square in Novo mesto. For the reconstruction, he acquired more than 1 million euros of funds from the Norwegian mechanism and bank loans. The Situla Hostel was awarded as the most appealing hostel in Slovenia in 2009. It also received the recognition by the Kingdom of Norway for one of the best projects funded by this mechanism. The Situla Hostel is still the only town hostel that was built without public funds.
As a member of the Agency M servis d. o. o. Management Board, he takes the credit in the commercial field which has assured the company to become the second largest employment service in Slovenia.

Since 2012, he has been working in his own company which employs 10 people. He also works as a coach (holding the ICF license) in many Slovenian companies and cooperates with numerous Slovenian managers.
Since 1999, he has been living in the Drska part of Novo mesto with his wife Mateja and four children.
Mr Bojan Kekec
Contact: bojan.kekec@novomesto.si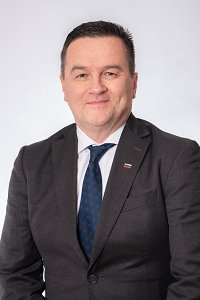 Bojan Kekec was born on November 19, 1965 in Novo mesto. He attended elementary school in Novo mesto, and later enrolled at the secondary electro-technical school in Krško, which he finished in 1984. After completing his military service, he got employed at Novotex where he gained considerable practical experience in electrical maintenance. Soon after getting his first job he also enrolled at the Faculty of Electrical Engineering and successfully completed his postgraduate studies in electronics.
In 1989, he started working in Komunala Novo mesto, where he managed and developed the project of the process managing of plumbing facilities, which was at the time the first operating system for wireless control of plumbing facilities in Slovenia. In 1994 he took over the management of the water supply sector, which he was carrying out for many years, and later assumed the position of Technical Director. In 1998, he enrolled at higher education of electrical engineering and successfully completed the study while working. Urban Municipality of Novo mesto awarded him in 2003 for his research work in the field of automation of water supply systems. For several years he also teaching Communal Studies at the Educational centre for higher education in Novo mesto.

In 2007, he was appointed to the post of Director of Komunala Novo mesto which he also successfully managed. During this time, the company was modernized and financially consolidated, a lot of communal infrastructure was implemented, a central treatment plant was started to be built, and the documentation for the construction of new plumbing system was prepared. The desire for new knowledge made him enroll in a master's degree study in energy economics, which he completed with honors in 2012, for which the University of Maribor awarded him the recognition for the most successful student.

After his term at the Komunala Novo mesto was completed, he got employed at the Slovenian Railways, where he managed one of the largest Slovenian infrastructure companies SŽ-Infrastruktura d.o.o. for two and a half years. Today he is the head of the Board of Directors and the Assemblies of two important international European rail corridors and represents the Slovenian Railways in important international organizations. He also runs the energy management project. Nonetheless, he also the president of one of the largest Slovenian cultural societies, the Folklore group KUD Tine Rožanc from Ljubljana.

Bojan Kekec is also a member of the National Council for the second mandate, working in the field of local self-government, international relations and state regulation. He is the President of the City Committee of the Slovenian Democratic Party in Novo mesto and a member of the Executive Committee of the Slovenian Democratic Party, where he also manages the field of transport infrastructure at the Expert Council. It is his third mandate also as the municipal councillor in the Urban municipality of Novo mesto.
At present, he and his family live in Novo mesto.
Mrs Sara Tomšič
Contact: sara.tomsic@novomesto.si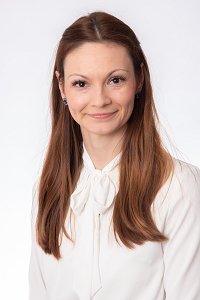 Sara Tomšič, policy analysis and public administration graduate is an active citizen from her highschool years onward. She was an advocate for youth policies in Ljubljana and Novo mesto, working for the National Youth Council of Slovenia. Versed of working in private and nongovernmental sector, managing teams and coordinating projects, she started to work at the Municipality of Novo mesto in 2014. With experiance ranging from public relations, marketing, advocacy, project management and policy creation, she joined the team of Municipality's current Mayor Gregor Macedoni, first as the Head of Mayor's office and later as a Deputy Mayor, incharge of development projects and Local Welfare System.
She lives in Novo mesto with her husband and son.