Region
Novo mesto is the capital of the Dolenjska region (Lower Carniola), which lies in the heart of the south-eastern Slovenia with over 140,000 residents. Dolenjska is characterized by hilly and varied countryside, thermal springs, vineyards dotted hills, the Krka river valley, Kočevje virgin forests and rich cultural heritage.

Dolenjska: rolling hills covered with vineyards, Krka river valley with its many castles and monasteries, thermal water health resorts surrounded by virgin forest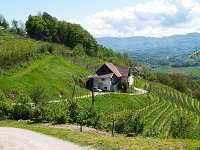 Dolenjska hills are covered with vineyards, which provide excellent indigenous wines. The most recognisable of them is "Cviček" - the giant of Dolenjska", that is specialty among Slovenian wines, one of the country's oenological characteristics and is unique in the world. Its secret is in blending various reds with white varieties. It has an attractive, light red colour with a slight ruby cast, and fresh fruity aromas and it is smooth, light and drinkable wine. Since 2001, Cviček made only in the Dolenjska wine region is protected with the mark of a recognized traditional denomination (PTP). Tourism in the vine cottages is very popular.
The green Krka river flows over Dolenjska's dams and rapids, as if merging with the flora and fauna on it's banks. It is offering many opportunities for fun and sports (rafting, kayaking, canoeing). The most remarkable features of the Krka river valley are its scenic beauty and a large number of ancient castles and monasteries.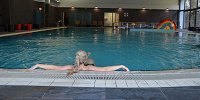 The Krka river first flows to the Karst plateau, called Suha Krajina, then meets the historic fortress town of Žužemberk and drops down to Soteske, passing Dvor. And when the Krka valley widens, you will find Dolenska's oldest thermal health resort - Dolenjske Toplice now hosting a modern Wellness Centre and hidden behind the branches of the nearby Rog woods you will find Base 20, a historical monument from World War II.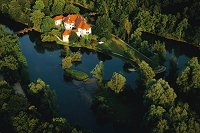 After embracing Novo mesto, the River flows on to Otočec, with beautiful castle on the river island. There is a modern Sports and Recreational Centre here offering a wide selection of sports activities, with tennis and a riding school, numerous pathways and a golf course. In the nearby health resort of Šmarješke Toplice there is a centre for Nordic walking.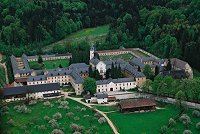 An island in the middle of the river is occupied by Kostanjevica na Krki, a medieval little town first mentioned in 1091. About 20 kilometres to the south-east, sheltered in a valley at the foot of the Gorjanci mountain range, stands the Carthusian monastery of Pleterje. It was built between 1403 and 1413 on commission from Hermann II of Celje. At the end of the valley, near the renowned thermal spa resort of Čatež, where the Krka river flows into the Sava, stands Mokrice Castle, surrounded by a magnificent park covering 60 hectares of land.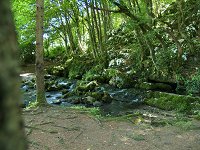 Kočevje virgin forest is home to a variety of plants and animals, among them certainly worth mentioning bear, wolf and lynx. It is a place where one can experience the truly real contact with nature.